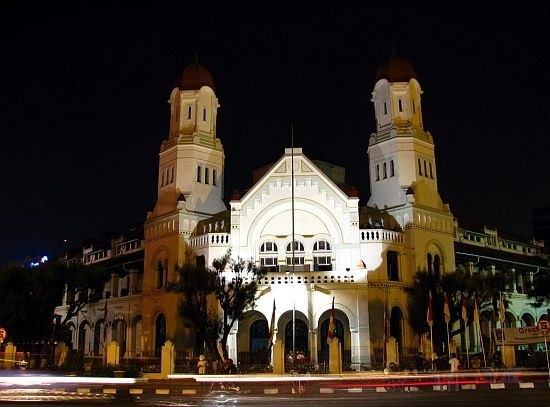 Lawang Sewu
(Thousand Doors)
is a relic of ancient Dutch building that was built in 1904. Originally this building for corporate headquarters rail (tram) Dutch colonizers or Nederlandsch Indishe Spoorweg Naatschappij (NIS). Building three floors art deco (1850-1940) was the work of renowned Dutch architect, Prof. Jacob F Klinkhamer and BJ Queendag. Lawang Sewu located on the east side of Tugu Muda Semarang, or on a street corner Pandanaran and street youth. Called Lawang Sewu (Thousand Doors), this is because the building has a door that very much. In fact, there is no door to a thousand. The building has many windows high and wide, so people often take it as a door.

The main building of three floors Lawang Sewu building has two wings extending to the right and left sections. When visitors enter the main building, they will find a large staircase to the second floor. In between there is a large glass staircase shows an image of two young Dutch woman made ​​of glass. All the structures of buildings, doors and windows adapting Dutch architectural style. With all the exoticism and beauty Lawang Sewu is one beautiful place to Pre Wedding.
After a long time Lawang Sewu as neglected, finally Lawang Sewu done restoration that took long enough, eventually completed by the end of June 2011 and re-opened to the public after the date of July 5, 2011 was inaugurated by First Lady Ani Bambang Yudhoyono and Craft Exhibition followed by event Nusantara flagship product featuring traditional products from around the archipelago.